VoIP Service Pros And Cons | How to choose VoIP in 2020
VoIP stands for Voice Over Internet Protocol. This is a type of telephone that uses an internet connection instead of a traditional landline. 
Landlines

use electricity to transmit soundwaves of fiber optic or copper cables. 

VoIPs

transmit calls through the same cables as your internet connections.
The system takes advantage of your existing hardware like computers or mobile phones. A piece of software and a headset is all you need to make the call. It offers unique advantages over traditional phones.
Today, cutting-edge technology is changing the way businesses connect to their customers. Even so, most businesses still rely heavily on the telephone. While many many communication tools have come and gone, the phone has stayed the test of time. 
Customer service, lead generation, and conference calls are just a few daily business tasks that are best done over the phone. 
Did you know that leads collected from inbound calls are almost always more valuable than ones collected online?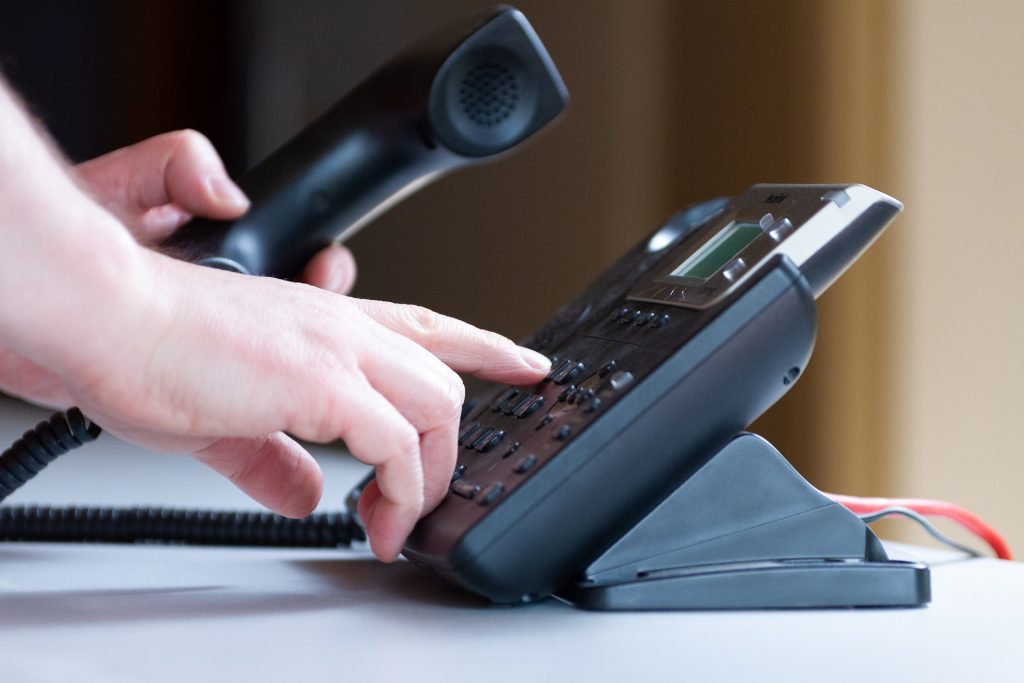 And when customers have a question or want to make a purchase, they prefer speaking to a live human — not sending an email or typing to a chatbot.
But, not all phone systems are created equal.
In the digital age, hard-wired landlines aren't always practical. These can be costly to install and won't integrate with your communication and scheduling software.
Here's the good news — a standard landline isn't your online option! 
There is a modern, affordable system that is easier to implement and just as effective.
I'm talking about VoIP systems.
Easy to set up

– If you already have computers or mobile phones connected to the internet, installation simply involves downloading VoIP software. Even if you purchase a standalone VoIP system, installation is quick and easy.

Mobility

–  VoIP services are not fixed to a specific location. You can use your mobile phone as an extension of your office phone. Numbers aren't tied to lines but can be used from any device with an internet connection. This is a major benefit for companies with employees who work remotely. 

Advanced functionality

– VoIP offers more than just voice, with a wide selection of additional features, such as video conferencing.

Price

– VoIP calls are cheaper than landline services. The installation and maintenance of the hardware and software also come at a lower cost than traditional systems. As a bonus, international calls are free over the system because all calls are sent over the internet.

Scalability

– VoIP systems only rely on an internet connection, allowing for an unlimited number of lines.
Security

– The security of a VoIP line depends on the level of security of the internet connection. Because of this, VoIP connections are easier to remotely hack than landlines. Strong cybersecurity is vital for companies sharing confidential information on those lines.

Internet-dependent

– the calls rely on the quality and stability of your internet connection. Businesses with slow internet connections may need to upgrade to sustain high call-volumes. 

Software issues

– As the system is connected to your computer or mobile phone, device problems or software issues can interfere with calls.
Is VoIP Right for Your Business?
Businesses are constantly looking for ways to improve service and cut costs. 
With VoIP, you can save money on your phone bill. 
As long as you have an internet connection you can start making calls immediately, at nearly any scale.
Furthermore, you won't need to purchase new equipment or hire technicians to get things running. With a computer, some VoIP software, and a headset, you can set up a full telephone solution without unnecessary hassle.
VoIP is affordable, scalable, and simple. 
There are a few types of VoIP you should know about. You can find a variety of systems in homes and businesses large and small. 
Some VoIP systems are tailor-made for businesses. 
These are packed with features to increase productivity, streamline communication, and keep overhead low. It has become the go-to system for many businesses.
With VoIP, an entire salesroom can be equipped and set up in a few short hours for a fraction of the price of landlines.
For new or young businesses, VoIP allows for rapid growth. Overhead is low and the results come instantly. When you need to scale, downloading software onto new devices is all it takes.
With fewer people using traditional landlines each year, VoIP has become an increasingly popular choice for people who still want a home phone.
Compared to landlines, the systems are cheap, easy to install, and customizable. 
All you need to work is an internet connection, which most homes already have. 
Residential VoIP systems are available in physical devices, much like a traditional phone, or are available on your computer or mobile device.
It can work with old and new fax machines. 
Older fax machines use T.30 Protocol. These were built for analog networks and send information as audio to be interpreted by another machine and printed. 
These machines won't work with VoIP out of the box. If you want to send or receive faxes with an older fax machine on a VoIP network, you will need to install a T38 capable VoIP Gateway. This is a small device that converts analog signals into digital ones and vice versa.
On the other hand, new fax machines use T.38 Protocol. This allows you to send faxes through VoIP networks without any special configuration. 
However, it can be difficult to know whether the machine you are sending a fax to uses T.38 or not. A good solution is to use a third-party service that can send your faxes through a traditional, PSTN phone network. These fax-conversion services can send faxes, do fax to email, and more.
There are some important features to consider when choosing a VoIP system. 
Before you go looking for a provider, be sure to know what your business needs. This will make shopping easier and keep the cost low. 
With just a bit of research, you can avoid paying for more or less than you need.
Here are some of the most important things to consider when shopping:
Fixed VoIP is an internet-based phone line that is tied to a physical address. Both residential and business VoIP services can be fixed.
However, fixed VoIP phone numbers are still portable. If you change locations, you can update your physical address within your VoIP provider's system.
An important thing to consider is that fixed VoIP systems are regulated. This means, even if you get free calls, you may be required to pay a small tax on them.
A benefit of fixed VoIP is that, because it is registered, your Fixed VoIP can provide 911 access. 
Ask your provider to confirm the availability of 911 calls.
Non-fixed VoIP is not associated with any physical address. Non-fixed services are available for homes and businesses. 
Rather than completely replace a traditional phone line, non-fixed systems are usually used to complement existing phone services or to provide throwaway numbers.
When businesses deal with data containing confidential patient information over VoIP, they are subject to HIPAA compliance.
HIPAA is a government regulation that ensures customers' safety. Depending on your VoIP service and specific needs of your business, you and your VoIP provider may be subject to follow these regulations.
Many homes and businesses turn to VoIP systems for low prices and convenience.
However, there is still a large spectrum of prices and features to choose from.
More expensive services will usually offer more features. These providers may have a long-running history of success providing VoIP services that warrant a higher price.
Still, cheaper options can be reliable. Many budget-friendly companies offer great service at a low price. 
In the end, it comes down to your needs and your budget. All of the companies on our list below offer exceptional products and services and have outstanding customer ratings.
Now let's see the best VoIP service providers on the market today. 
All of these companies offer outstanding service, with feature-packed  packages, fair prices, and outstanding ratings.
RingCentral Office is the perfect fit for medium-sized businesses up to large enterprises. 
This is a full-service cloud PBX. Because this is cloud-based, there are more features than a traditional PBX system. Also, a non-technical administrator can set the whole thing up over the internet. 
RingCentral Office ticks all the boxes, including advanced capabilities like UCaaS and custom app integration.

Pros
Network infrastructure in Europe, the US, and Asia

A deep feature set of the service and business collaboration

Artificial Intelligence integrations

Improved user interface for ease of use
Cons
Hardware will cost you extra
The workflow is not as intuitive as it could be

No workaround to the wizards
Price
RingCentral Office VoIP starts as low as $19.99 per month.
Vonage is a large company with many VoIP products. Specifically, Vonage Business Cloud is made for small businesses. 
This is an exceptional choice for small businesses — it offers a great bang for your buck. Vonage Business Cloud offers a robust platform with new features and management tools. 
The one area that is lacking is security. Businesses that need high levels of customer data security should ask about HIPAA compliance

Pros
Impressive administrative features and calling functionality
Wide range of features

Intuitive mobile apps

Better API integration than the previous version
Cons
Add-on features come at a cost

Conferencing isn't included
Price
Vonage Business Cloud VoIP starts at $19.99 per line per month.
The X Series is 8×8's replacement for its Virtual Office platform. 
This new and improved product has a reworked back-end and many new features that make it a serious contender on the VoIP market today.

Pros
Friendly and flexible pricing

Many essential features

Solid mobile and desktop capability with easy setup
Cons
Desktop app has stability issues and a non-intuitive design

Meetings features are difficult to find and use
Price
8×8 X Series VoIP starts at $12 per month and offers a free, 30-day trial.
Grasshopper is our pick for small businesses. With services specifically made for small businesses, it is a top choice for streamlined, intuitive, and cost-effective VoIP systems. 
A major benefit of Grasshopper is its exceptional ability to handle mobile VoIP and collaboration.

Pros
Extremely fast and easy setup

Competitive cost

Covers the basics of a business phone system, including basic call routing, voicemail, and faxing
Cons
Requires existing landlines or mobile phones

Limited features beyond the basics
Pricing
Grasshopper VoIP starts at $26 per month with a free 7-day trial.
If you port your existing phone number to Grasshopper or choose a new one, you can save $75 off of your annual plan.
Ooma Office is the company's small business solution.
This service sets itself apart by offering VoIP that doesn't require a contract yet still packs a solid set of features. The only drawback is that Ooma Office isn't suitable for rapidly growing or larger businesses.
Pros
Low-cost solution

Support for existing analog phones

Android and iOS apps that bring key features to mobile phones

Easy to set up and manage for those with limited telecommunications experience

Easy to use

Good online documentation

24/7 customer support
Cons
Phones must be configured by Ooma
Pricing
Ooma Office VoIP starts at $19.95 per month per user.
As you can see, VoIP offers several advantages over landlines. 
In particular, businesses turn to VoIP systems for the low price, easy setup, modern features, and scalability.
With just a few computers and an internet connection, you can build a fully equipped call center. 
Setup will be simple, almost any IT worker or office administrator can set up the system. Or, the VoIP service provider will do it themselves.
When it comes time to scale your business, adding more call stations and phone numbers is as simple as adding your software to new devices.
Also, most VoIP systems can integrate with your existing infrastructure, communication software, and scheduling software. 
With VoIP, you get all this with very little overhead. 
Check out any of the top 5 VoIP providers for exceptional service. 
To get a price quote or find more info, fill out our form. Our professionals can work with you to get the best service provider for your unique business.
The Best Answering Services for any Business
Full Service Professional Answering Systems
Get 14 day free trial and up to 20% off your service